A/C Pro® R-1234YF Recharge Kit with Digital Gauge, 14oz ACPYF100D-6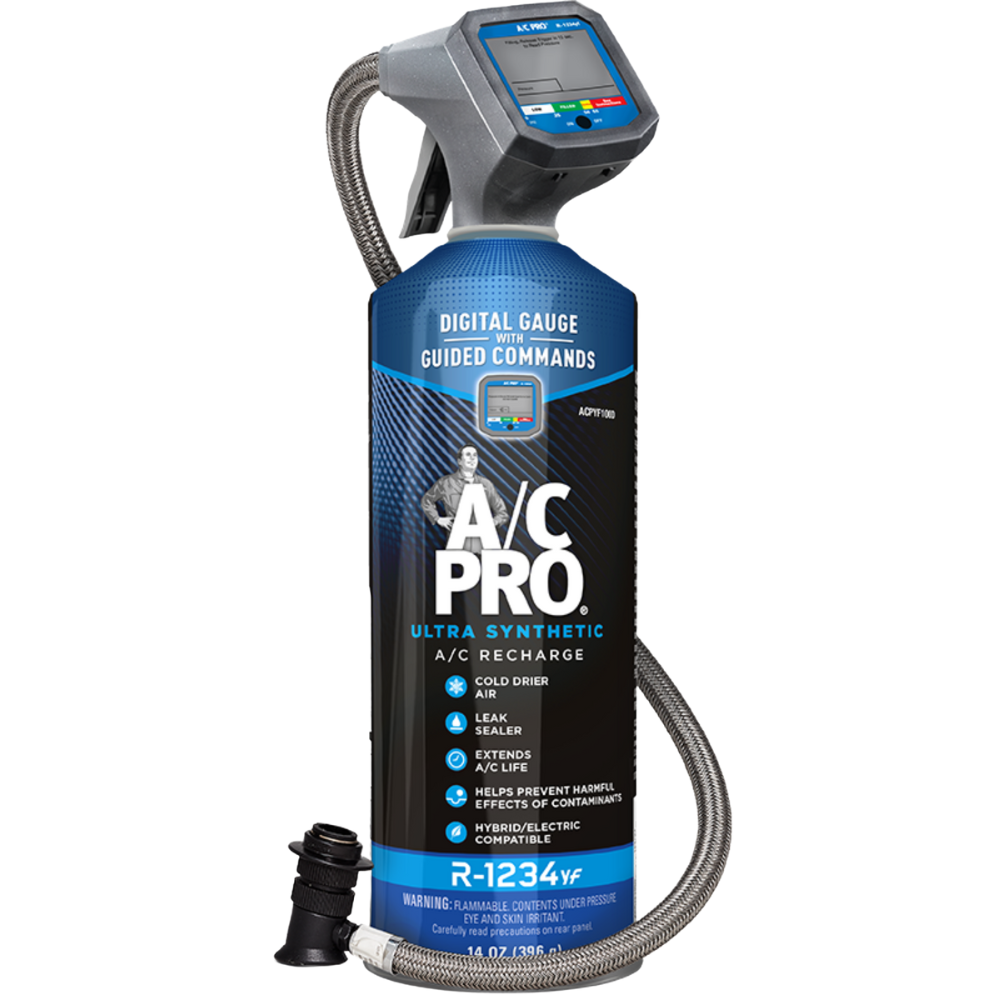 Product Features
Digital Gauge

Easy-to-use

Protects and restores

Works with R-1234yf vehicles
Product Description
The A/C Pro® R-1234yf Recharge kit features a 14 oz formula specifically designed to deliver colder, drier air for vehicles with a R-1234yf A/C system. Special additives help improve A/C performance and the advanced formula works quickly to seal common air conditioning leaks in rubber O-rings, gaskets, and hoses. This kit extends air conditioning life with anti-wear additives that ward off the effects of harmful additives.
The digital gauge provides guided commands that help eliminate guesswork and ensure accurate recharging, and a YF-specific snap-lock coupler assures the low side port is being used to add refrigerant. This kit works on all R-1234yf vehicles, including hybrids and electrics.
Digital gauge with guided commands eliminates guesswork and allows for accurate recharging
Provides colder, drier air with special additives designed to improve performance within the A/C system
Advanced leak-sealing formula works quickly to seal common leaks in rubber O-rings, gaskets, and hoses
Extends A/C life by providing anti-wear additives and preventing the effects of harmful contaminants
Specifically designed to work with R-1234yf vehicles including hybrids and electrics with a specially designed formula and easy-install YF snap-lock coupler.
View Product

View Product

View Product
A cheatsheet of everything to do with your car's A/C, so you can feel confident using our A/C Pro® recharge products. There's no need to call a mechanic!

Learn more

There's nothing worse than the A/C blowing warm air in your face on a summer day. Check out our A/C Pro® troubleshooting guide for faulty A/C systems.

Learn more

Your car's windows can accumulate dirt and dust particles, road grime, tree sap, water spots, bugs and bird droppings. Knowing how to clean auto glass and how to keep­ your windshield clean is essential for safe driving.

Learn more